The Canadian Rockies are truly a winter wonderland. Draped in a blanket of snow and laced in delicate ice, these captivating landscapes of mountain-ringed lakes are a photographer's paradise! From the grandeur of towering mountains to the tiny delicate details on the ice, your creativity will be limitless with countless possibilities for compositions.
The Canadian Rockies offer one of the most beautiful winter landscapes I have ever seen. In addition to the breathtaking landscape and the impressive mountains, this area is also a paradise for photographers for another reason. Constant snowfalls always create new wonderful landscapes. And the temperature changes between day and night keep creating new ice formations. Therefore, there are endless possibilities for us to create unique pictures.
This workshop is designed for hobbyist and professional photographers alike, and you can count on receiving individualized guidance and feedback. All my expert knowledge will be used to ensure we find the best light and compositions, and I will always be available to provide technical support and guidance. At the end of this workshop, you will depart with an impressive portfolio, new advanced shooting and processing techniques, and a newfound appreciation for this majestic landscape!
Why This Workshop
My goal is to not only take you to the perfect locations at the perfect time, but to specifically target your individual photographic needs to enhance your technical skills.  You can expect personal and hand-on assistance in the field as well as a host of tips for post-processing your images into a finished masterpiece.
Some of the techniques covered include:
Creating balanced compositions
Using the light and finding the correct exposure
Maximizing your lens choice
Using layers to create images with depth
Using filters to create dramatic long exposures
Creating multi-image panoramas
Using filters and multiple exposures for images with wide dynamic range
Focus stacking and using powerful foregrounds
Using Lightroom and Photoshop to enhance the visual impact of your images
Day 1
On our first day we will meet at our hotel in Banff before beginning our adventure.  We will have a fun welcome lunch to get to know each other and discuss our future itinerary.  To have maximum flexibility, our workshop will not have a fixed daily schedule. After lunch we will depart to our first location, where we photograph the sunset.
Day 2 – 6
Simply put, there is no fixed itinerary!  This workshop offers the true pursuit of exceptional landscape photography which requires us to chase the best light and weather conditions throughout this impressive region.  During these days we will explore some of the most breathtaking sights the Canadian Rockies have to offer.  Because the conditions are ever-changing with new snowfall and fresh ice formations, the opportunities to create unique images are truly endless.  The magical lighting of the mornings and afternoons is especially soft this time of year providing us long periods of excellent shooting conditions.   This means we will likely change locations many times each day to make the absolute most of every opportunity.  Below are a few of our top destinations for this exciting adventure!
Day 6 – Departure
On our final day in the Rockies we will say farewell at noon in Banff before departing with some amazing images, fun memories and new friends.
Locations
As mentioned we will not have a fixed itinerary. Depending on the weather conditions we may explore the following locations during the photo tour:
Banff National Park
Jasper National Park
Yoho National Park
Kananaskis parks
Abraham Lake
Bow River
Spray Lakes
Lake Minnewanka
Two Jack Lake
Ice cracks and spectacular frozen bubble formations
Icy foregrounds and curves  in open rivers
Snowy winter forests
This fabulous national park includes the iconic Peyto Lake which sits in the shape of a snowy white wolf at the bottom of a stunning valley.
The view from Bow Lake is especially breathtaking with an incredible wintry atmosphere especially before sunrise when the moonlight and blue hour glow provide soft and surreal illumination over the undisturbed snow.  This lake is excellent for finding interesting foreground details like crystalline ice structures and pristine patterns in the snow.  These fascinating textures will leave you with memorable and dramatic images featuring soft lighting and visual depth.
While in Banff we will also drive the awe-inspiring Icefields Parkway often considered one of the most scenic winter drives in North America.
Beyond the traditional iconic shooting locations we will also explore some lesser known locations along scenic rivers and small creeks which will offer motion to bring our images to life.  Along these streams, fragile ice formations sit like lace along the banks providing intricate leading lines to some of the most stunning mountains in the Canadian Rockies.
Made famous by the surreal methane bubbles encapsulated in the ice, Abraham Lake is visually captivating with endless possibilities for creative compositions.
At 32km in length, this massive reservoir features a plethora of photographic opportunities including its iconic bubbles, crystal clear ice, striking ice fractures and snow-capped mountains.
The valley between the peaks is also home to powerful winds which whip the snow across the frozen surface in dazzling wintry displays that create excellent opportunities for visual drama in your images.
Jasper National Park is the true crown jewel of the Canadian winter. Featuring towering peaks and snowy forests, this landscape is sure to take your breath away.
An abundance of lakes and rivers offer stunning photographic opportunities including the one beneath the aptly named Pyramid Mountain. This symmetrical peak is a powerful and dramatic visual anchor for any shot.
The lakes here often feature beautiful cracks in the ice and delicate ice crystals ring the shoreline and can coat every surface.  These small formations are exactly the punch your images need and I will be by your side to assist with focus stacking techniques to capture every detail.
Yoho National Park is home to one of the most iconic lakes in the Canadian Rockies.  Emerald Lake is well known for being home to one of the most photogenic alpine cabins in the region.
The beautiful Emerald Lake Lodge is stunningly perched right on the shore and sits draped in snow and surrounded by the sheer peaks of the surrounding mountains.  This truly is a magical winter setting which looks stunning during the blue hour light when the horizon glows along with the cabins warm lights.
This park even features some fast moving creeks set within silent snowy forests which will bring our images to life.
Kananaskis County is home to a host of stunning parks featuring ancient pine forests and snowy frozen lakes nestled between the mountains.
In particular, the Spray Lakes offer a lesser known opportunity to photograph beautiful methane bubbles frozen in time and stacked beneath the clear ice.
The abundance of small lakes in these parks provide a plethora of unique ice structures to create interesting foregrounds at every turn.  Fractures in the clear ice are especially excellent for creating leading lines and visual drama and I will be there to assist you with creating compelling compositions.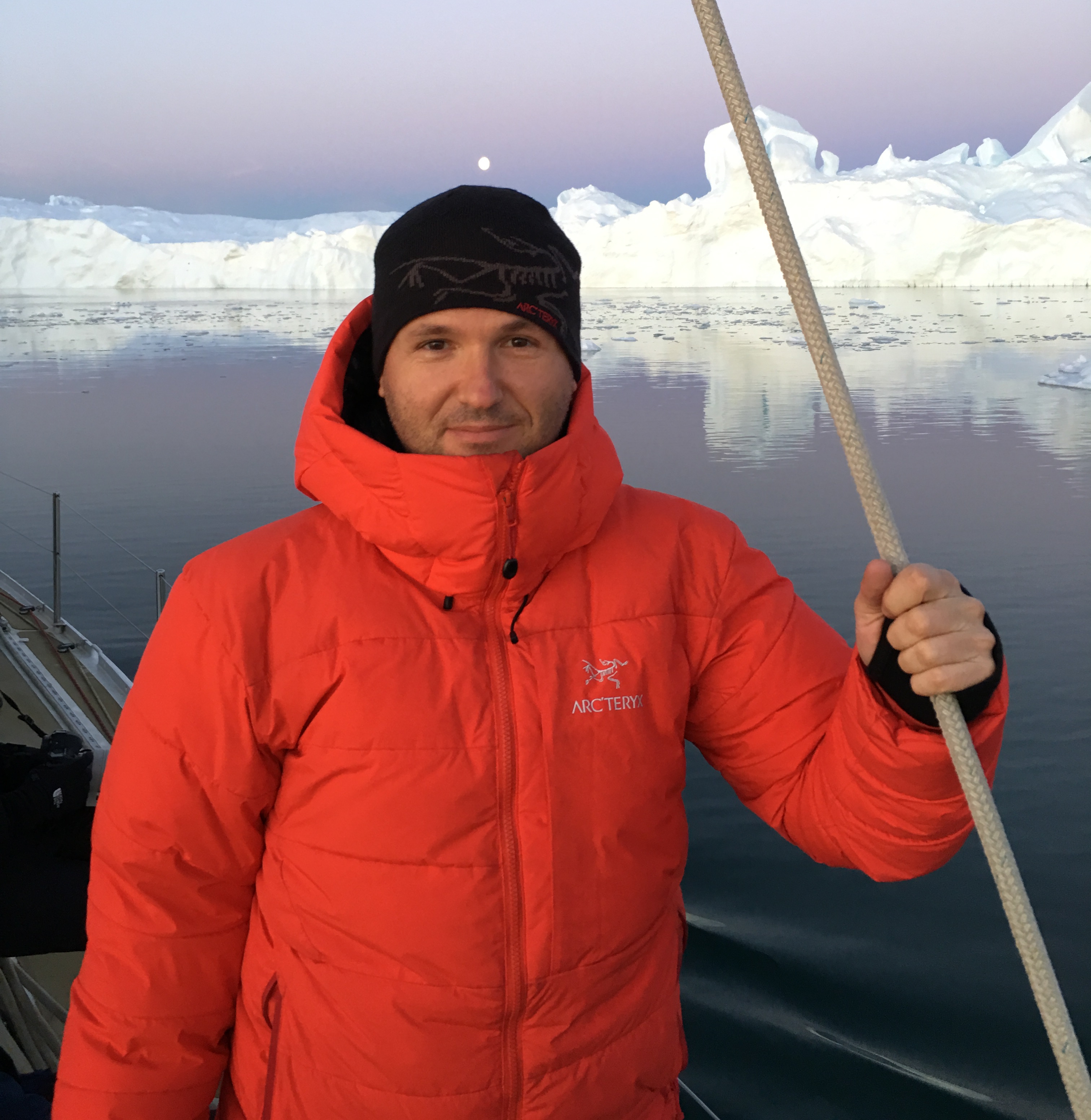 Dennis Hellwig
Tour Leader
Dennis Hellwig Photography
Payment Details
Date
Price
Deposit
Payment in full
Spaces
Jan 9 – 14, 2022
6 days
CANCELLED
USD 1,000
90 days
prior to the workshop starting date
min 4, max 8 people
Jan 15 – 20, 2022
6 days
CANCELLED
USD 1,000
90 days
prior to the workshop starting date
min 4, max 8 people
Both tours
Jan 9 – 20, 2022
12 days
CANCELLED
USD 1,500
90 days
prior to the workshop starting date
min 4, max 8 people
* USD 1,500 discount of the total price if you join both tours for a 12 day trip.
** There is only one volunteer driver per trip.  Please indicate your interest in this when you sign-up, and the discount can be used to cover your rental costs and fuel. Although the roads are snowy they are well maintained.
Payment and Cancellation Policy
A deposit of $1000 is due at the time of booking.  The remaining balance is due 90 days before the start of the workshop. A 50% deposit can be refunded prior to this.  Refunds will be paid by the same method that the original payment was made.
If the border to Canada is still closed for Americans 90 days before the workshop starting date, I may cancel the whole tour. Because of this, no deposit is due until 90 days before the start of the workshop. This means you can sign up for the workshop now with no deposit and if the Canadian border is open to Americans by Oct 10, 2021 we will proceed with the full payment.
In case the border gets closed again after Oct 10, 2021 I will reschedule the tour to January 2023. All payments will be applied to the new dates. If you cannot reschedule to the new dates selected for January 2023, you probably will get the chance to choose a full refund instead.
What's Included
All transportation during the workshop in 4WD or 4AWD vehicles
Lodging in hotels (double occupancy, single supplement + $850 for 1 tour, + $1,500 both tours, based on availability),
Breakfast and small snacks when out in the field during the workshop
Welcome lunch at the first day
Master classes and editing and feedback sessions during the workshop incl. a link to all of my recorded post processing videos
Entry fees and business licenses for all national parks we will visit
What's Not Included
Airfare to and from Calgary International Airport

Transportation from Calgary International Airport to Banff
(I recommend the Banff Airport Shuttle banffairporter.com from Calgary International Airport to Banff)

Lunch and dinner (but we provide small snacks during the day)

Alcoholic beverages

Visa (if required)

Single supplement (+ $850 for 1 tour, + $1,500 for both tours, based on availability)
Disclaimer and Weather
The Canadian Rockies are very cold this time of year with temperatures ranging between -30F and +30F. It is imperative you bring appropriate attire for these winter conditions. Please see the What to Bring section for details.
My goal is to send you home with incredible images of the Canadian Rockies.  However, I cannot be responsible for the weather and my primary responsibility is your safety.  If conditions are unsuitable for shooting, we will use that time productively to conduct editing and feedback sessions.  The schedule does retain flexibility which will allow us to work around possible inclement weather to the best of our ability.
Fitness Level
All shooting locations are easily accessible. There will be no hiking or climbing during this workshop; however, there will be some short walks (10 – 15 minutes maximum, sometimes through snow) to reach the best vantage points.
What to bring
Clothing:
Waterproof and windproof outer shell jacket and pants.
Thermal clothing layers for a bottom layer.
A puffy inner jacket (down or synthetic) and insulated snow pants.
A warm parka (which may double as your wind/waterproof outer layer).
Additional wool of fleece layers (both top and bottom).
Wellingtons or fishing boots for walking through the shoreline.
Some form of removable ice tread for your boots to prevent falling.
Warm wool socks and two layers of gloves.
A warm hat and scarf (or gator) to keep your neck warm.
Handwarmers may be useful.
Casual clothes for meals and workshop sessions.
Spare shoes in case yours become muddy or wet.
Gear:
A DSLR or Mirrorless camera of any brand which you can operate manually.
A wide angle lens (ex: 14-24), a mid-range zoom (ex: 24-70mm), and a telephoto zoom (ex: 70-200 mm).
Filters such as NDs (6 or 10 stop), a GND to help during sunset, and a polarizer to cut glare on the ice.
A sturdy tripod that can get extremely low to the ground.
A laptop for reviewing images during feedback sessions.
Spare batteries, chargers, and additional memory cards.